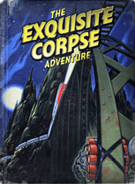 The Exquisite Corpse Adventure
, which began as an online story of 27 biweekly installments on
Read.gov
, will soon be available in book form from Candlewick Press.
his story-game was a collaboration between the Center for the Book in the Library of Congress and the National Children's Book and Literacy Alliance, one of the center's reading-promotion partners. The story was originally available at
Read.gov
, a Library of Congress website devoted to books, reading, literacy and libraries.
"The Exquisite Corpse Adventure" is a buoyant, spontaneous experiment--a progressive story-game like those played by children where one person begins a story, stops at a cliffhanging moment, and the next person picks it up and continues until everyone in the group has the opportunity to contribute. And just as in those games, the contributors to "The Exquisite Corpse" invented characters that spontaneously erupted out of their imaginations; plotlines that tumbled forth, some realized, some lost; and conflicts with no logical solution in sight. The story is about two kids, Joe and Nancy, from the circus whose parents are caught in another dimension.
The contributors to "The Exquisite Corpse Adventure" are some of America's most gifted artists and storytellers: M.T. Anderson, Natalie Babbitt, Calef Brown, Susan Cooper, Kate Di Camillo, Timothy Basil Ering, Jack Gantos, Nikki Grimes, Shannon Hale, Lemony Snicket, Steven Kellogg, Gregory Maguire, Megan McDonald, Patricia and Fredrick McKissack, Linda Sue Park, Katherine Paterson, James Ransome, Jon Scieszka and Chris Van Dusen.
More information about "The Exquisite Corpse," including links to accompanying educational materials, is available at
www.Read.gov/exquisite-corpse/
. "The Exquisite Corpse Adventure" from Candlewick Press will be available at local libraries and bookstores in hard or soft cover beginning Aug. 23.