Pratt Institute, Brooklyn, NY
We all know where we were on September 11, 2001. Some people were affected more directly than others, but we were all affected. We all remember where we were at the time we learned of the terrorist attacks, and more importantly, we knew or quickly found out where our loved ones were.
I was working with a first grade student at a local elementary school where my son was also in second grade. As I was leaving the building, a colleague told me what had happened. I thought it was best to leave Derek in school even though all of the schools were later locked down. In the days that followed, the images of the attacks greatly affected Derek and in response, he wrote a poem about angels flying from a burning building. I was so happy that he could use poetry as a way to convey his emotions about such a horrific event.
Derek in front of his dorm.
Little did I know then, that ten years later, my son would attend college in New York City. Two weeks ago, my husband and I took our only son to
Pratt Institute
in Brooklyn where he is majoring in writing. He is a poet. We are so very proud of him.
Even though it has been very difficult to let him go, I am happy that Derek is in NYC - which is an education in and of itself. He will be there for the 9/11 events, but most of us will not. Yet, we will all reflect on the events that occurred on 9/11 in our own way.
I am thankful to the many policemen and firefighters that were so brave, but I am also very thankful to the thousands of teachers across the country who were also brave and stood with our children, even when they may not have known where their own children and family members were at the time, and helped them feel safe. Ten years later, many of those children have become teachers themselves and are teaching the children of today about the events of September 11, 2001.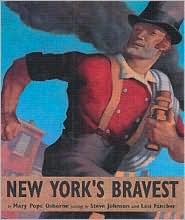 There are two picturebooks I share with my preservice teachers that are not specifically about 9/11 but are dedicated to them in some way. The first is Mary Pope Osborne's tale tale,
New York's Bravest
, which is dedicated to the 343 New York City firefighters who gave their lives to save others on September 11, 2001.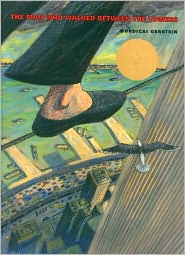 The other is
The Man Who Walked Between the Towers
written and illustrated by Morticai Gertstein and also won the 2004 Caldecott Medal. The story takes place in 1974, as the World Trade Center was being completed, and a young French aerialist, Philippe Petit, threw a tight rope between the towers and spent almost an hour walking, dancing, and performing tricks a quarter of a mile in the sky. The documentary of Philippe Petit's amazing feat,
Man On Wire
, won an Oscar in 2009.
While not directly about the events of 9/11, both of these books honor the spirit of those who gave their lives and of New York City. More literature connections to 9/11 are on the
TeachingBooks.net blog
.