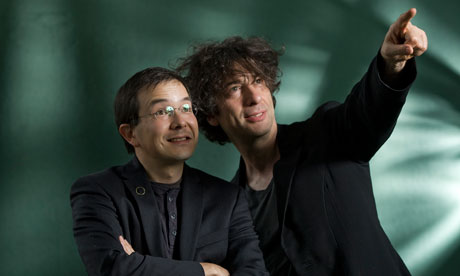 From The Guardian: Illustrator, author and Oscar-winning film-maker Shaun Tan (left), with Neil Gaiman. Photograph: Colin McPherson
If you are a fan of Shaun Tan and Neil Gaiman, then you must read a conversation between the two in
The Guardian
.
The two met this year at the Edinburgh book festival where Shaun was teaching a masterclass.
I particularly like the following exchange in which they are talking about writing as a way to find out what you think about something:
NG
: I'm going to learn something I didn't know when I began. I'm going to discover how I feel and what I think about it during the process. I will break off little bits of my head and they will become characters and things will happen and they will talk to each other.
ST
: Exactly, creating a character is like impersonating another being, so that you can find out what you think about something. You really find out what your style is when you diversify – setting something in a fictional landscape, the far future or distant past. A lot of people think of style or personality in terms of things you do often, but it's not really. It's what you do under duress, or outside of yourself. I don't feel I know myself really well because – again it's that emotional thing – sometimes I feel a little embarrassed by the amount of emotion that comes out in a story. I don't realise that there's so much of it locked up or in denial and then it comes out in the process of doing this conscious dreaming exercise.
NG
: I love your stuff because you're never told what the emotion is. You get to feel it on your own and you get to discover the emotions along the way.
Do read the entire conversation!