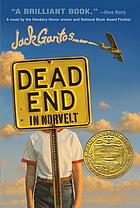 The annual award, established in 1982 by author Scott O'Dell, goes to an author for a meritorious book published in the previous year for children or young adults. The
purpose of the award is to encourage other writers--particularly new authors--to focus on historical fiction. Scott O'Dell hoped in this way to increase the interest of young readers in the historical background that has helped to shape their country and their world.
A list of all award winners by historical period is available here.
On a personal note, I loved this book! I laughed all the way through it. I heard Jack Gantos speak about the book at the National Book Festival in Washington, D.C. last year and he was hilarious (as usual). A webcast of his speech is available here. Enjoy!